Conklin Cool Roofing System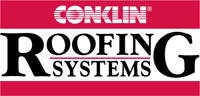 Any savvy business owner knows that quality, performance, and value are important factors to consider in a roof. But at Conklin, those attributes are just the baseline in the development of our roof systems. Our systems exceed the most rigorous industry standards and do more than just protect – they can actually pay for themselves! Conklin's white roof systems reflect the sun's heat and UV rays to keep buildings cooler and reduce air conditioning costs. In addition, periodic recoats can often protect for the entire life of the roof, offering the superior protection of a Conklin roof without new roof expense.
Conklin's wide variety of building products comprises several roofing systems that allow us to meet almost any roofing challenge with a high-quality, long-term solution. At our roofing company, our high-demand roof systems can be applied by our roofing contractors to metal roofs, built-up roofs, Modified Bitumen, EPDM, asphalt, concrete, and more! 
Stop hesitating and contact our roofing contractors to get the job done right!
Conklin Systems for Your Roof
Stop looking for "commercial contractors near me", our roofing contractors have 35 years of experience in applying the systems we sell. One of our systems will fit your needs and protect your investment.
Metal Roof Restoration
The MR System is a complete waterproofing system for metal roofs.
Single-Ply Re-coating System
A new, cost-effective solution for repairing and preserving approved single-ply membranes, resulting in improved energy savings.
TPO/Single-Ply Membrane System
Our single-ply membrane system is the best in the industry. The rolls are overlapped and welded together forming an exceptional waterproof and durable shield delivering unsurpassed protection for year's to come.
Fabric-Reinforced Roofing System
Our fabric-reinforced roofing system gives buildings and businesses trouble-free protection. It waterproofs with a seamless acrylic coating in which a tough, flexible fabric is embedded.
SPF Roofing & Insulation System
Our spray polyurethane foam (SPF) system is a great way to provide high-grade insulation on both roofing and interior wall applications for top to bottom protection from the elements. Also a great way to fix ponding areas.